AMG: Ambient Music Generator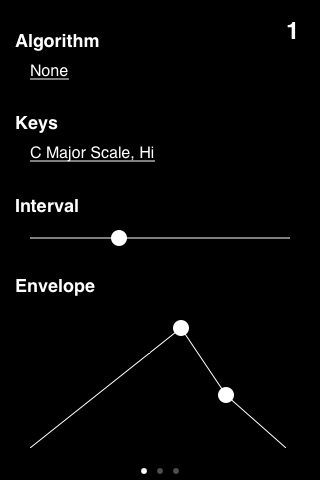 Ambient Music Generator is a tool for generating "Ambient Music" dynamically.
Buy now

AMG: Ambient Music generator is available on AppStore for only $1.99
How to use
To generate a sound, simply shake iPhone, or change the algorithm settings from "None" to "Random".
When you shake iPhone again, the sound stop.
Generator
There are three generators in all. You can switch each generator by flick. Each generator has several parameters. You can generate a sound by adjusting these parameters.
Algorithm
You can select the algorithm to be generated. Once selected, the sound starts playing automatically.
Keys
You can change the root key, the scale and the range of pitch.
Interval
You can change the interval of each tone by dragging the slider.
Envelope
You can change the character of tones by dragging two sliders.
Support
Please contact AMG Support if you are experiencing technical difficulties.
Requirements
iPhone OS 2.2 or later
iPhone or iPod Touch
Press Images
For press release material, download press_images.zip